貸し画廊案内
ヴァニラ画廊で展示を行ってみませんか?
展覧会をご希望の方は是非一度ご相談ください。
03‐5568-1233
info@vanilla-gallery.com
■申込手続
お申し込み時に、使用内容の資料、企画書を拝見させていただきます。 当画廊の所定の申込み用紙にご記入をいただきます。
■使用期間
平日月曜から木曜日12 時~ 19 時まで。土曜・日曜・祝日は 17 時までです。
■使用料金
展示室A 1 単位(月~土)6 日間¥200,000
展示室B 1 単位(月~土)6 日間¥120,000
※スケジュールに関してはご相談をお願い致します。
■搬入搬出
作品、及び使用機材の搬入は前週の展示最終日午後6時以降。 当日は朝 10 時から。 作品、及び使用機材に関しては使用者側で展示、設置をお願いします。 搬出は最終日の午後 5 時より速やかにお願いいたします。 不慮の災害等による事故については当画廊は責任を負えません。
■作品保全
会場内での、作品機材、機材の管理は、ご使用者の責任となります。
■諸設備
当画廊の設備使用に関しては許可を必ず受けてください。 ご使用者による汚損については相応の賠償をお願いいたします。
■販売
会期中の作品売買については、当画廊規定の手数料をお支払いいただきます。
■物販商品委託について
ヴァニラ画廊では委託商品を随時募集しております。
ヴァニラ画廊のショップコーナーで、グッズを販売致しませんか?
珠玉のグッズを制作なさっている方からのご連絡をお待ちしております!
事前に一度電話やメールなどでご連絡頂き、商品に付いてご相談下さい。
グッズ、書籍、CD等、ジャンルは問いませんが、商品を審査させて頂き、審査終了後ご連絡を致します。
まずは画廊までご連絡下さい。
■画廊平面図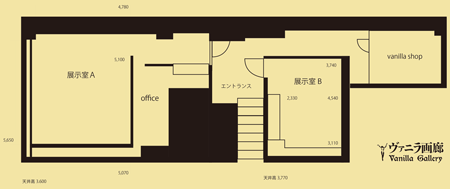 RENTAL GALLERY
■Application Procedure
Before making an application, please inform us with the written proposal and plans for the event. To apply, fill out the designated application form.
■Gallery Hours
12:00-19:00 weekdays,(Mon~Thu)
12:00-17:00 Saturday, Sunday and holidays.
■Rental Fee:
roomA200,000 JPN for 1 unit of 6 days (Monday to Saturday).
roomB 120,000 JPN for 1 unit of 6 days (Monday to Saturday).
Sundays and holidays may be available upon requests with fees to be discussed.
You must pay half the amount as the registration charge at the time of application. The remainder of the rental fee is due by the opening day of the event. The registration fee is not refundable if the cancelation is made due to applicant's convenience. If you cancel within 2 months of the opening day, you must pay the full amount as the cancelation charge.
■Installation and Clean-up
Art works and other equipments are to be installed on Saturday after 6 pm, or 10 am on the opening day. The applicant is responsible for displaying and setting the art works and other equipments. Clean up should take place immediately at 5 pm on the closing day.
The gallery is not responsible for any unforeseen accidents.
■Maintenance and Supervision
The applicant is responsible for maintenance and supervision of all the art works and other equipments.
■Facilities
The applicant must ask for permission before using any facilities in the gallery. The applicant must compensate for any damage or loss incurred by using the facility.
■Sales
During the rental period, a commission of designated percentage is required on sales of art works.
■Flyers/Invitation Cards
Upon request only, the gallery can provide flyers/invitation cards with applicable production charges. Otherwise, the applicant should provide flyers/invitation cards announcing event.
■Archiving
The gallery will make files of art works and archive them in the project room.
■Sales of Consignment Goods
Vanilla Gallery is constantly looking for consignment goods.
You can sell your goods at the shop corner of Vanilla Gallery.
We are looking forward to hearing from people who are producing superb goods!
Please call or e-mail us in advance to inform us of the products.
We will examine the products, which can be of any genre such as goods, books, or CDs, etc., and notify you after the examination.
Please feel free to contact us at Vanilla Gallery.